How to use
How to use
Animal Ayurveda herb packs.- 10minutes treatment -
Necessary Items and Useful Goods
(1) Herb Pack
(2) Beauty Oil


(in the case of reducing hair volume or moisturizing skin and fur)

(3) Shaker with a lid
(4) Slicker brush or Comb
(5) Shampoo and Treatment
(6) Soft Sponge(for dogs hate shower)
(7) Bath Towel
(8) Hair Dryer
Approximate Usage Amount
of Herb Powder
[ Useage chart ] In the case of Usage Amount of Herb Powder
Size
Type of Pet
Amt. of Herb
Amt. of Water
7 to 9 times of herb
Amt. of B. Oil
1/10 of herb
Tiny
Chihuahua(short-haired),
Miniature Pischer,
Yorkie etc.
0.7 to 1oz
(20 to 30g)
for 0.7oz(20g)
4.7 to 6 oz
(140 to 180ml)
1/2 tsp.
Small 1
Toy Poodle, Miniature Dachs-
hund, Shih-Tzu, Schnauzer etc.
1 to 1.7oz
(30 to 50g)
for 1oz(30g)
7 to 9oz
(210 to 270ml)
1/2 ~ 1 tsp.
Small 2
Papillon, Pomernian,
Spitz, etc.
2.1 to 2.8oz
(60 to 80g)
for 2.1oz(60g)
14 to 18oz
(420 to 540ml)
1/2 ~ 1.5 tsp.
Medium
Shiba, Shetland Sheepdog,
Corgi, etc.
2.8 to 5.3oz
(80 to 150g)
for 2.8oz(80g)
19 to 24oz
(560 to 720ml)
1.5 ~ 3 tsp.
Misc.
Cat(short-haired)
Ferrer
1 oz(30g)
0.5oz(15g)
7 to 9oz
(210 to 270ml)
3.5 to 4.5oz
(105 to 135ml)
1/2 tsp.
This chart is for reference.
*A level of spoonful of attached spoon is equivarent to abou 0.5oz(15g).
*Recomended amount of hot water: 10-12times for Skin Health,14-16times for Moisture Herb.
*The usage amount depends on the type and length of hair.
*For types with long and large amount of hair, it is recommended to make a looser paste by adding more hot water than usual.
STEP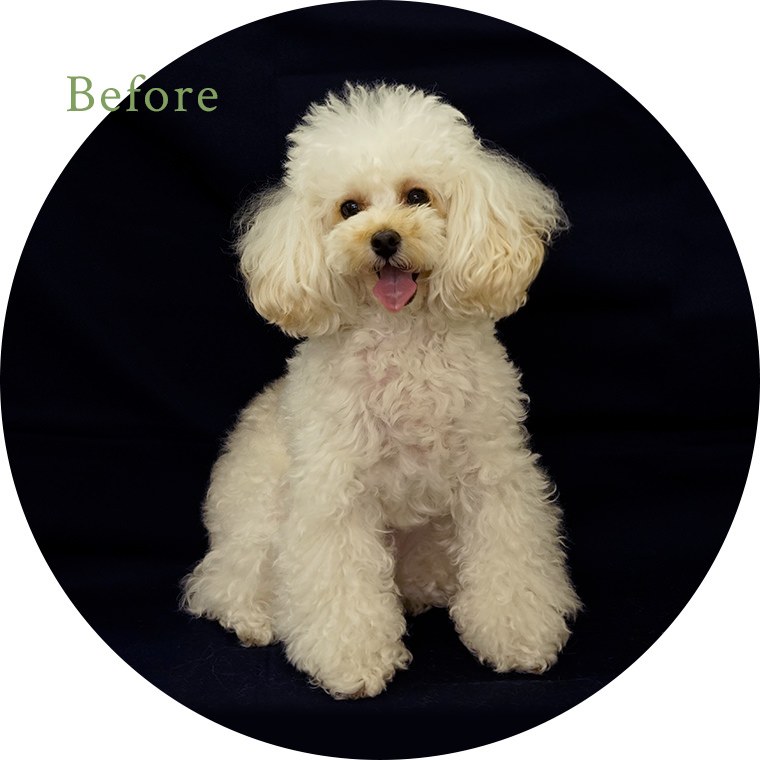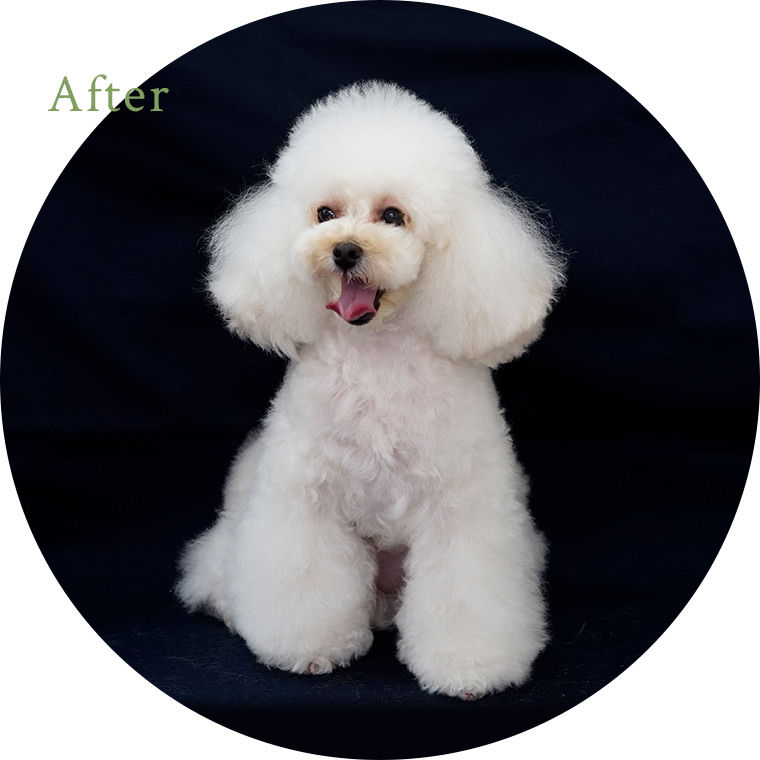 Preparation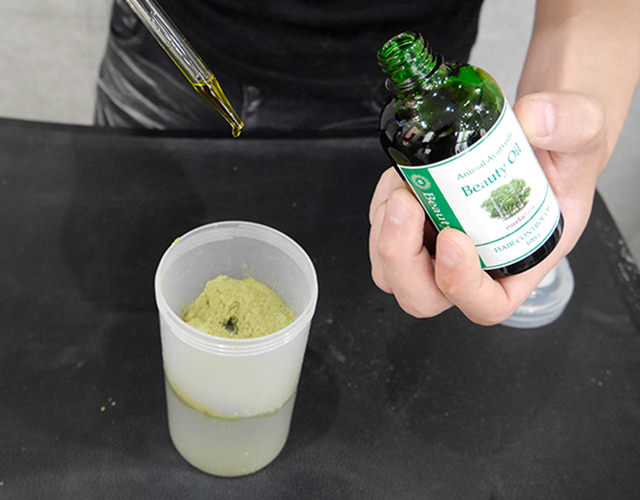 First, put warm water in the shaker. After pouring warm water, add the herb powder.
*Make sure to add the herb powder AFTER the warm water. If you put the herb powder in first, it will form lumps and will not be make a smooth paste.
Adding Animal Ayurveda Beauty Oil, which uses sesame oil as its main ingredient, helps moisturize and nourish the skin.
This formula also smooths the texture of the undercoat and prevents a "poofy" look.
We don't recommend to use our Beauty Oil with oily skin dog. Please make sure you check the booklet for the proper amount of Beauty Oil to use.
Close the lid tightly and shake well for about 20 to 30 times.
Open the lid, let the trapped air escape, then shake a few more times.
Let it settle for about 10 minutes, to make sure the paste is well mixed
Brushing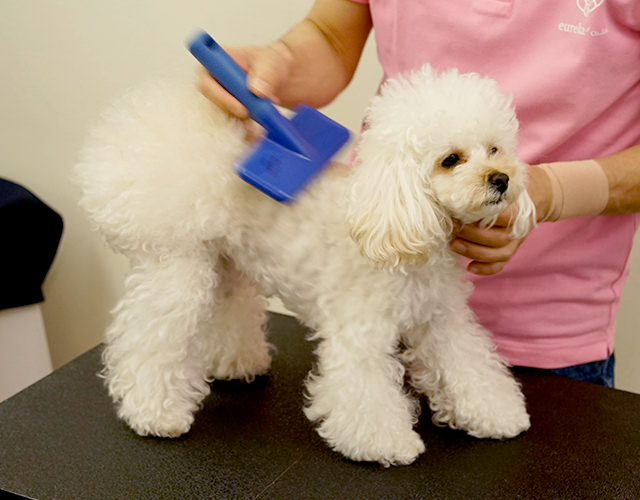 While you are waiting, brush the coat thoroughly to get rid of dead and loose hair.
Make sure you work through any mats or tangles prior to bathing.
If the coat is matted or tangled, the herb paste will stick to the matted and tangled hair and be hard to rinse off.
Shampoo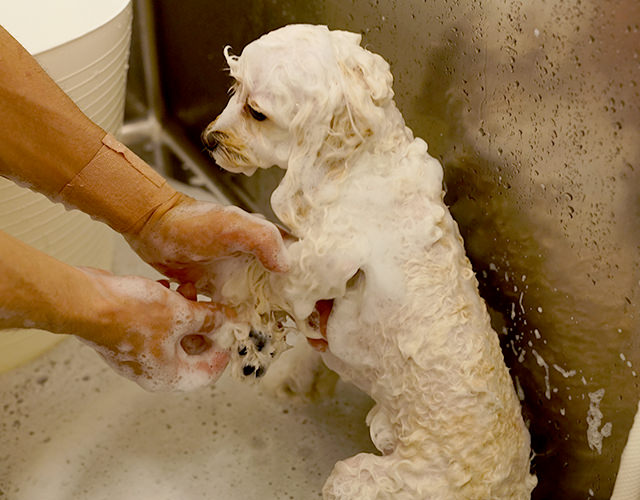 Use your favorite shampoo to remove remaining grease on the skin.
Be sure to wash around the ears, armpits, and between the paws. If the grease on skin is degreased and cleaned, the final rinse should be easy.
Apply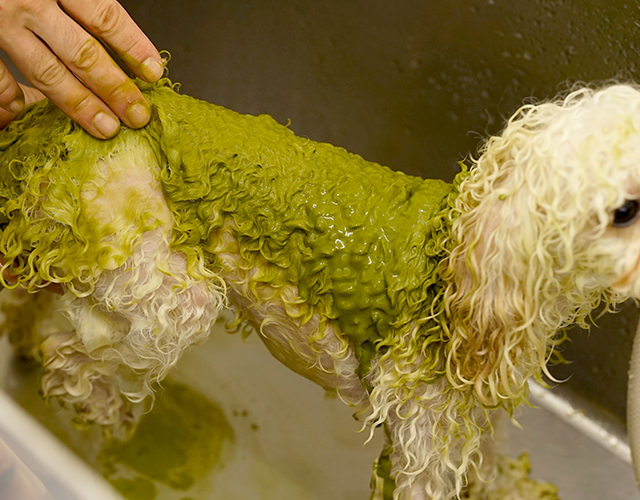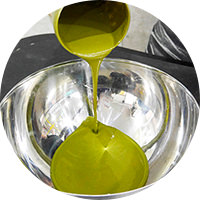 Check the thickness of the herbal paste before you use it.
The paste's thickness should approximately be the consistency of pancake mix.
Check the thickness of the herbal paste before you use it.
The paste's thickness should approximately be the consistency of pancake mix.
Apply the herbal paste to the wet dog's body.
Please apply directly and evenly on the skin and coat.
Even for short-haired dogs, apply the herbal paste while separating the dog's hair.
If the paste is not applied to the skin correctly, grease and protein dirt, such as sebum, will not be cleaned off properly.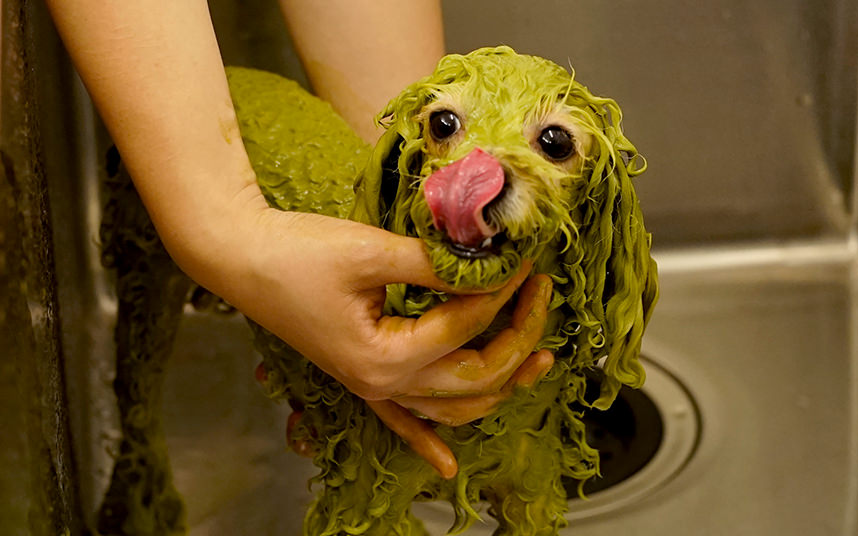 Massage
After applying, massage body gently for 1 to 2 minutes.
Don't massage too intensely, this can hurt your dog muscles.
Do NOT brush or rub their coat and skin too vigorously.
There is a risk of damaging the skin and coat.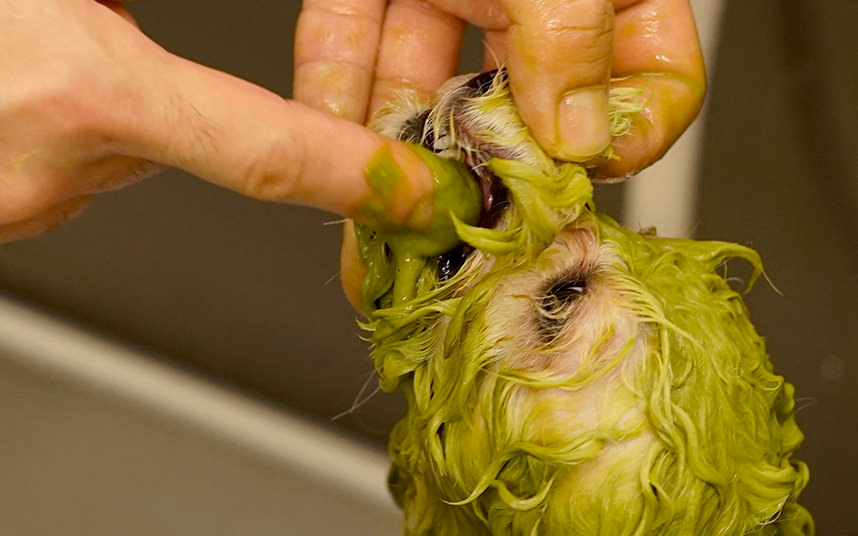 Brushing Teeth
In addition to the massage, you can brush the dog's teeth with herbal paste while waiting for the pack to take effect.
The herbal cleansing formula helps to prevent bad breath and oral disease.
Within 1-2 minutes after applying, you will be able to notice its effects.
In this short time, you will see an improvement in the skin and coat condition.
(If your dog's skin is oily or has a particularly foul odor, please leave the paste on for 5 to 10 minutes.)*We recommend to wrap a towel around dog's body to prevent the herb paste from splashing.
Bathing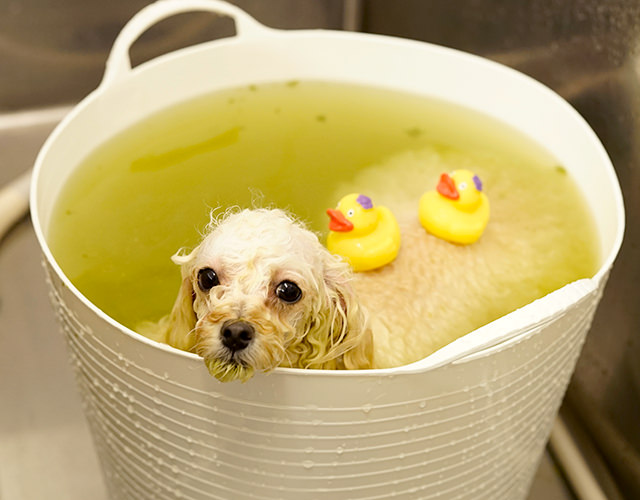 We will show you an efficient way to save time and, you will be able to see the great results sooner.
Put your dog in a small tub or bath bucket. Then fill with warm water.
It is much easier to rinse off the paste using this method rather than the traditional shower.
Herbal Spa, soaking the dog in an herb bath, lets our herb formula penetrate deeply into the skin. The warm bath also helps improve blood circulation.
Be very careful with the water temperature especially if the dog has a skin infection or is a senior. They are extra-sensitive to hot water, so test the water on your wrist and make sure it is a little on the cool side.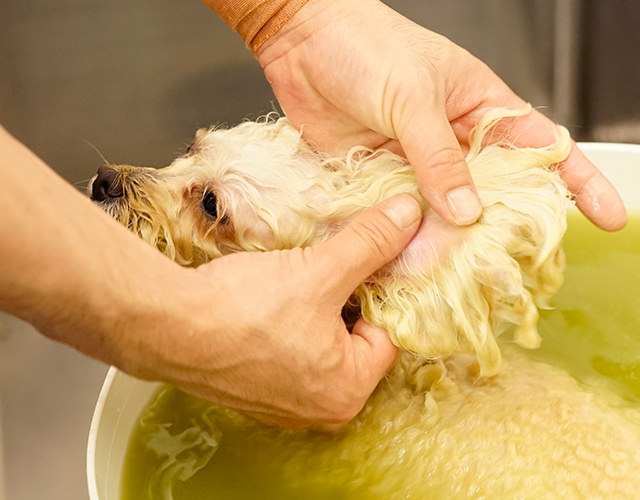 In the tub bucket, wash off the paste gently as though you are giving a soft body massage.
Carefully check the area around the ears, arm pits, and paws where the herb paste tends to remain.
Do NOT rub the dog's coat in this process. It can cause severe damage the coat.
It is completely safe if herbs remain on the dog's skin. However, if you are not satisfied with the remaining color such as a slight yellowish tint on white coated dogs, please repeat the rinsing 2 to 3 times in the tub bucket until the color washed away.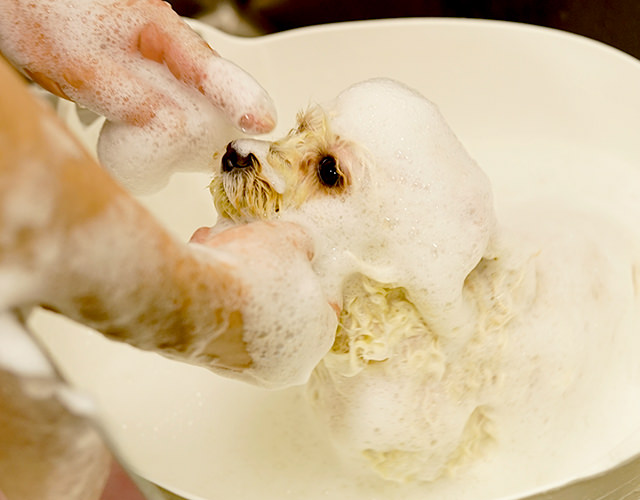 Pour some warm water into the bucket and add your favorite shampoo. Using the shower, add more water till a thick foam is generated.
Wash with foam gently and remove the green colored herb paste residue, then rinse well.
Don't rub the coat. Gently wash the dog with the foam.
Treatment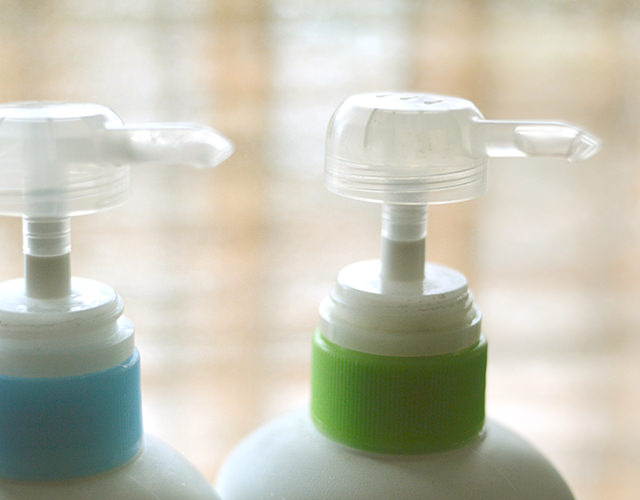 After rinsing, apply your favorite treatment or conditioner, considering the skin and coat condition.
Dry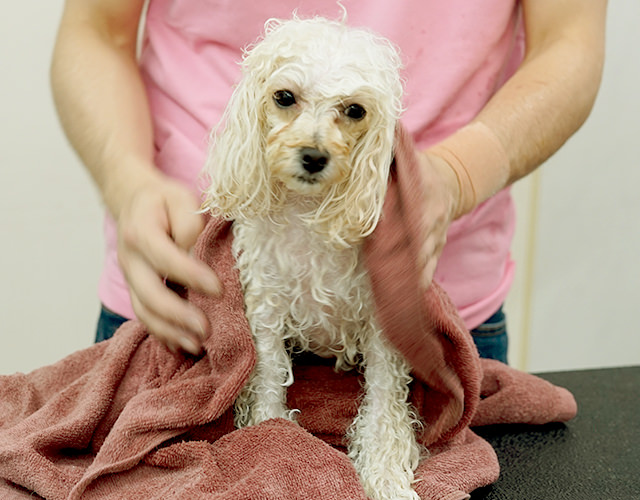 After drying gently with a towel, dry thoroughly with a blow dryer.
Drying time will be shorter than what you're used to because the sebum dirt has been removed and the skin is free of grease and dirt.
Grooming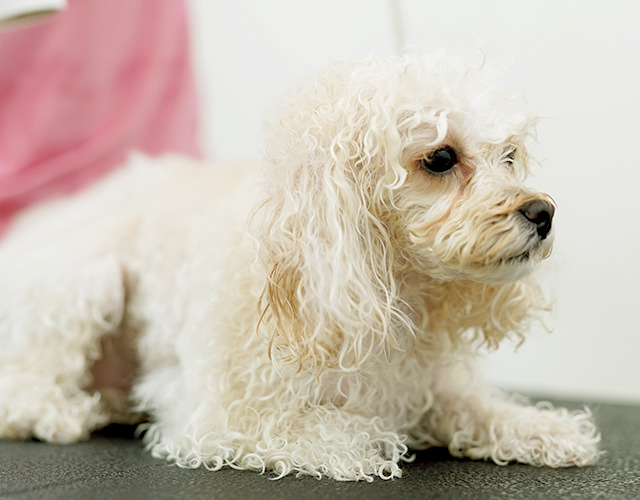 Your grooming time will be shortened, your scissoring will be easier, and you will save time during your styling because each strand of hair shoots straight up from the root.
Contact
Please contact from below contact form
if you are interested in Animal Ayurveda products.